Wally Gilbert

Geometric Series:
Squares and Triangles

January 6-February 26, 2011

February Reception
Thursday February 10, 7-9pm

In conjunction with Downtown Art Walk February 10, 12-9pm

Reception and Catalogue Signing
Saturday January 8, 7:30-9:30pm
including a special introduction by Peter Frank 8:30pm



"Triangles #2"
Wally Gilbert's is a restless mind, and nowadays it drives an equally restless eye – and hand. Having innovated in molecular biology to the point of winning a Nobel Prize, Gilbert has since turned to the realm of visual art, although here, too, he keeps pushing at the limits of both his own imagination and the abilities of his tools. Moving from straight photography into the digital apparatus behind the modern-day camera, Gilbert has been riding the transformative abilities of the computer with increasing verve, coming up with formulations that bring forth the pictures behind the pictures, that amplify the pictures within the pictures, and that double these pictures back onto themselves in an increasingly kaleidoscopic embrace of optical transcendence.
In the "Squares and Triangles" series, as the name implies, Gilbert takes basic geometric forms, enmeshes them in digital halls of mirrors, and systematically unfolds entirely unassuming shapes into elaborate scintillations. Rhythmic pulsations echo into endless patterns, intricate structures unfurl and implode into gem-like apparitions, colors swell and fade into one another, all tickling the eye into a vibrant thrill. The structures begin simply, but quickly diversify; where Gilbert could have followed an orthodox minimalist formula, working out a particular schema into all its iterations, he takes a discretionary path determined more by taste – a taste for beauty and for optical fascination. This seems to prompt a yet greater adventurousness with regard to composition and even color: sometimes Gilbert examines a particular formation in several different hues, other times he seems to examine a particular hue, or range of hues, in several different formations.
Are these paintings or drawings? No, they are not painted or drawn. Are they photographs? No, they are not photographed – although they are produced with photographic materials. Gilbert may have an extensive background in photography, but he has found his way out of the camera and into the computer. These are the first works of his to rely entirely on what the computer can generate. Even the series immediately preceding, in which Gilbert investigated many of the same effects, turned as its core imagery to the human head – an organic formation whose initial capture, at least, took place outside the desktop, and which insists on a reference point outside both software and hardware. Not here. Gilbert's sole tool in these series is the computer, which he appositely describes as a "digital workspace." What he's making here may or may not be photography, but it has nothing to do with the camera.
The computer, in its burgeoning infinitude, is opening up a whole new realm of artistic expression. Wally Gilbert is not the first to step through the portal into this still-uncharted – and perhaps unchartable – realm. But, by concentrating on what he can form rather than simply on what tricks he can get his machine to perform, Gilbert makes that realm that much lovelier and more inviting.

Peter Frank
Los Angeles
December 2010
Peter Frank is art critic for the Huffington Post and Adjunct Senior Curator for the Riverside Art Museum
Artist Photographer Wally Gilbert had a career as a Molecular Biologist. Awarded a Nobel Prize in 1980 for discovering a rapid DNA sequencing method, he is now following a new passion in creating visual art. He has had twenty-seven solo-exhibits, including an exhibit at the Massachusetts College of Art in 2004 and a major installation in both Warsaw and Lodz in 2007.

"Vanishing Squares"

"Triangles"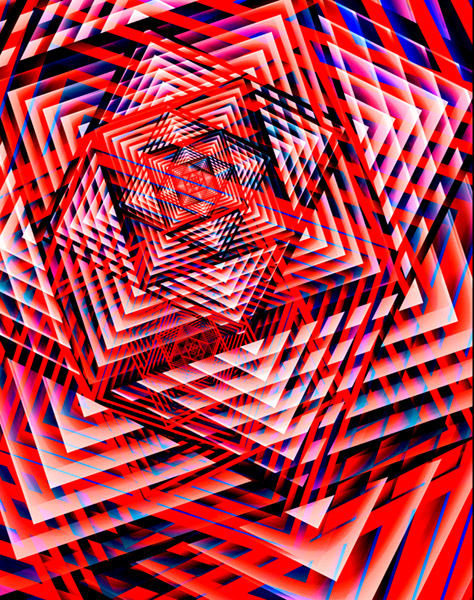 "Displaced"
This site and its entire contents © 2004-2011 Los Angeles Center For Digital Art
All Rights Reserved.
Works of individual artists remain the intellectual property and are copyrighted by their respective authors. No unauthorized reproduction, all rights reserved.